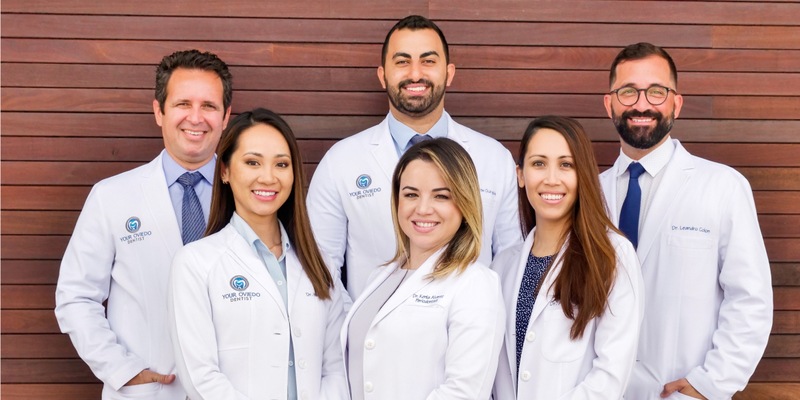 Your smile lights up your face – and we want to keep it that way. So, whether you're in our office or connecting with us remotely, we want to ensure you're equipped with information and tips to keep your dental health in check. From cosmetic dentistry to general dentistry, we have you covered.
The questions and answers in this blog will help you navigate the trends in the dental world. Look no further than Your Oviedo Dentist for advice and factual details. After all, if you're going to browse the internet for answers, wouldn't it be best to get it straight from your trusted dentist? We think so!
Let's get started with some of the most popular inquiries.
Related to Oral Care
Modern science has led to breakthroughs in dentistry that make procedures quicker, more comfortable, and more affordable. At Your Oviedo Dentist, we're using innovative technology in every approach to ensure you're always getting the best care possible.
What Dental Services Are Available?
First, we ensure that our patients are well informed of the importance of maintaining good dental health. Be proactive by maintaining your regular 3-6 month check-ups to receive necessary exams and cleanings. Understanding the state of your current dental health can help prevent future dental challenges.
Do you have kids? If so, we have you covered there, too. Your Oviedo Dentist sees patients of all ages and offers amenities to make the dental experience enjoyable for children and adults.  So, the whole family can benefit from our practice's innovative and patient-centered approach.
Sometimes, even with proactive care, a time arises when you need a treatment solution. And when that time comes, Your Oviedo Dentist is here to help. Restorative dentistry can offer solutions to re-establish your smile, and our practice's approach gives patients expert results in less time. From CEREC® one-visit crowns to bridges and dentures, Your Oviedo Dentist has the experience and technology to treat your concern.
If you have any reservations about the experience, we can offer sedation dentistry techniques to make procedures more comfortable. Nitrous Oxide, commonly referred to as laughing gas, is an inhaled sedative used in treating patients. Oral medications can also be prescribed to be taken shortly before the appointment to reduce anxiety. Before your treatment appointment, you can discuss your sedation options with your dentist to select the best solution for you. Rest assured, sedation is common and very safe. It's just one more way we can help enhance your overall experience.
What Can I Expect from My Care at Your Oviedo Dentist?
At Your Oviedo Dentist, you get more than expert care; you get a one-of-a-kind calming experience. The office offers spa-like amenities, including massage chairs, paraffin wax, entertainment (Netflix or Pandora), and snuggies. As you relax in your surroundings, you'll receive five-star service from patient-centered staff. Extended hours are offered to accommodate patients' busy schedules, a special kids waiting area is designed to make family appointments more enjoyable, and welcome gifts help patients feel like part of our dental family.
Most importantly, patients value their optimal results, thanks to the innovative practices and modern technology used at Your Oviedo Dentist. Procedures incorporate an array of advanced tools, including digital imaging prior to any treatment, the intraoral camera, laser dentistry, CEREC, Galileos, and digital imaging. And with flexible financing, you can access these solutions affordably regardless of your insurance.
Don't be one of the 40 million people avoiding the dentist due to fear. Your Oviedo Dentist has thought of everything to ensure you have a relaxing and successful dental experience.
Frequently Asked About Treatment Options
Dental Implants
Dental implants can be an ideal solution to fill gaps where adult teeth may be missing. You can even replace all teeth with implants if necessary. Many patients prefer implants to dentures because it's a more permanent solution.  Plus, you never have to worry about your teeth slipping or sliding out of place with implants!
At Your Oviedo Dentist, we're committed to restoring your smile quickly and comfortably; that's why we use a process called ALL-ON-4® Implant Dentures.
The Benefits of ALL-ON-4® Dental Implants
ALL-ON-4® has revolutionized the implant process. Like the namesake, ALL-ON-4® only requires four implants to support a full arch prosthesis, whereas traditional implants require eight. Patients still get a beautiful, natural-looking smile with the four implants, but they save time and money.
With ALL-ON-4®, a patient's smile is restored in a one-day appointment. Plus, implants are secured into your jawbone, so you get to eat your favorite foods, speak clearly, and never worry about an accidental slip.
Even more, every aspect of the procedure is handled in our office, from placing the implants to restoring them. Our dedicated periodontist specializes in implants and will attend to your every need.
We're here to ease any of your concerns and answer all of your questions. At Your Oviedo Dentist, our first priority is always ensuring the patient feels comfortable with the procedure. Set up a consultation, and let us walk you through what to expect.
Cosmetic Dentistry
Cosmetic dentistry offers solutions for aesthetic concerns, such as stained teeth, crooked teeth, or chipped teeth. Your Oviedo Dentist offers several cosmetic treatments for patients to choose from.
Popular Cosmetic Procedures Include
Porcelain Veneers – A virtually undetectable porcelain shell that bonds directly to the front surfaces of teeth to improve your smile.
Composite Veneers – A composite material placed on top of your existing teeth, helping to shape the teeth into a more desirable appearance.
Teeth Whitening – A customized take-home kit that can reverse the effects of day-to-day staining in as little as three nights.
Your Source for Information About Your Health
The dentists at Your Oviedo Dentist are a trustworthy team devoted to your care and dental health. We build long-lasting relationships with patients. So, from the moment you join our dental family, you know you'll be cared for by someone you can trust.  That's why you can trust Your Oviedo Dentist to provide timely and relevant dental information on this blog to keep you looking and feeling your best.
Got Questions? We're Here to Help!
Continue to browse our blog for trends and updates, or call our office to schedule a consultation. Your Oviedo Dentist is here for you and all your dental needs. Because when a friend asks you to "Say Cheese," we want you to flash those whites with confidence!